−
+
Table of Contents
Can You Drink Tap Water in Budapest?
Yes, tap water is drinkable.
Tap Safe includes data from many publicly available sources, including the WHO (World Health Organization), CDC (Center for Disease Control), and user submitted databases, but unfortunately there's not enough data about Budapest.
To see user submitted ratings of the water quality for Hungary, see the "User Submitted Ratings" box on this page.
Can you drink tap water in Budapest Hungary? The answer is yes. They have an authority that monitors the quality of tap water.
Source of Water in Budapest, Hungary
Budapest Waterworks deliver fresh and healthy drinking water for over 2 million people in Budapest. Long pipeline systems connect wells on Csepel Island, Margaret Island, Szentendre Island, and the left and right banks of the Danube with the taps in people's homes and workplaces.
The wells in Hungary can produce 1 million cubic meters of water every day, which is more than the people of Budapest use on an ordinary day. Despite water abundance, the protection and preservation of water throughout Hungary is a high priority.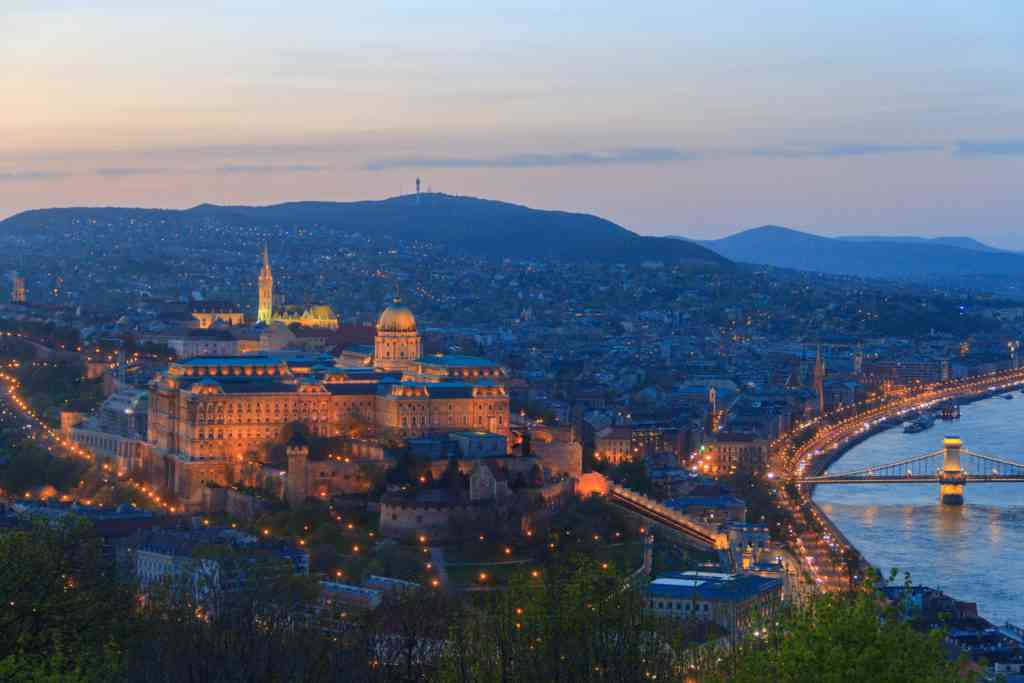 Budapest Waterworks provides high-quality water to the residents of Budapest and many surrounding settlements. Laboratories analyze approximately 11,000 water samples per year and assess the quality of the water-based on the following characteristics:
physical
chemical
microbiological
bacteriological
radiological
The results show that the quality of the Budapest drinking water meets the relevant Hungarian standards and the European Union regulations.
How is The Water Disinfected?
Before the drinking water enters the pipeline, it is disinfected with chlorine gas via continuously operating chlorine dispensers. In the case of wells, pools, water towers, and pipeline sections, "hypo" (Sodium hypochlorite) is used to disinfect the water.
Do they add a lot of disinfectant to the water? The amount of disinfectant added to the water does not pose a public health problem. At present, the measurable residual chlorine content is 0.2 mg / l, which is within range of the recommendation of the health authority. This amount changes when the quality of the water supplied adversely affected by floods or pipe breaks.
Water Hardiness
The taste of drinking water impacted by the hardness of the drinking water. The hardness of water determined by the concentration of calcium oxide (CaO) in one liter of water. According to measurements taken in the capital, the water in Budapest can be classified as medium-hard water. It is essential to know that the harder the water, the better it tastes. It is true, however, that harder water is less efficient for washing because washing machines do not operate well with water that contains high levels of minerals. On most of the packaging for detergent powders, the ideal water hardness given in so-called German Hardness (NK).
The average hardness of the drinking water in the Budapest area is 148 mg / l CaO.
Budapest Tap Water
Budapest tap water is just as safe to drink as bottled water. Bottled water, distilled water, and spring water. However, bottled water isn't truly safe to use if you are drinking only one liter a day. Hungarian bottled water is safe to use if you are consuming two liters a day. Many companies do not filter out contaminants such as chlorine and lead and, therefore, do not have the chlorination required when they bottle water.
When you are getting ready to buy tap water, check the label to ensure that it is indeed potable water. You can use a hydrometer or a portable water filter. Remember to consider the contaminants in the water, which may vary according to where you live. For example, if you live in an urban area and drink mainly urban water with chlorine, then there will be more chloroform in the potable water than in your rural house water. However, bear in mind that there will be less contamination if you live in a rural area because there is no industrialization.
Budapest tap water contains a lot of minerals and salts. Some of these contribute to the water's hardness, and some contribute to its softness. Water which has a lot of calcium may be acidic when it leaves the mine. If you are looking for very soft water for your vegetables and washing up, then a natural water softener is a better choice.
Budapest Drinking Water
You may have heard that Budapest is a great city to visit, but did you know that the drinking water there is probably better than your own? While most cities share contaminated water, especially with runoff from farms and other water bodies, Budapest has a low percentage of dangerous contaminants in its tap water. For this reason alone, thousands come every year to visit the beautiful city.
The first thing you need to know about Budapest drinking water, however, is that it's a good thing that they put so much effort into making sure the water is clean. As mentioned before, agriculture contributes to a good part of the contaminated water, so they don't just dump it into the nearby river. Instead, they filter it, remove any sediment and then treat it. This filtering and treatment process makes it so that not only is the water clean and healthy for you to drink, but it's also good for you in other ways. It gets rid of toxins that you may have been carrying in your body for years, and it helps keep you from getting sick from drinking dirty water.
Of course, not everyone drinks from a filtered and treated source. If you live in an area where the tap water is contaminated, you can still enjoy a good cup of piping hot Budapest drinking water. This is harder than it sounds. You can usually buy bottled water in just about every town and city, so this isn't going to be an option for you. However, even if you can't afford the bottled stuff, you should be able to find plenty of good tap water in plenty of places.
Budapest Water Quality
Budapest, the Hungarian capital, is one of the most beautiful places in Europe. It was built centuries ago, and during this time, the city was known for its fantastic water quality. If you visit Budapest, I recommend that you stay in an apartment with water filters. This is important because you don't want your family to drink from the municipal tap water. Budapest is one of the most developed cities in the world, and as such, there are many industries, factories, schools, and other places of business near the city's water supply.
Budapest's water quality is excellent, but it can also be contaminated by all of the different industries located around the city, as I said. Drugs are distributed through the city pipeline system and can reach all of the apartments in the city. A simple way to tell if your apartment has drugs in it is to do a reverse osmosis search. This search only takes a few seconds and can give you an excellent indication of your drinking water quality. In addition to drugs, there are also cysts, viruses, microbes, bacteria, protozoa, parasites, and other pollutants in the city's tap water. You must protect yourself and your family from these pollutants.
Water filters should be considered an essential part of your vacation planning in Budapest. I recommend the EPCB Budapest, which is deemed to be the best filtration device in the world. EPCB Budapest provides the highest quality filtration device that I have used in my own home. In addition to providing high-quality filtration, it also offers high value for money. When you go on vacation, always remember to check out the water quality and ensure that your entire family is safe from any health threats.
Budapest Bottled Water
Budapest bottled water is not that hard to find if you know where to look. It is mainly sold in a municipality and is controlled by a private company so that you won't find it in your local supermarket. I don't know why there are still stores that don't sell it, but that's their problem, not yours. The price is excellent, though, and it beats the price of tap water any day of the week.
You can also find this water online. Many people get hooked onto the internet after trying some great products and ordering from more than one place. Budapest bottled water is one of those great products that gets made hype, so they turn up on eBay and other sites like it and hope for the best. That's just a way of life for them. I'm sure you've been there before and got burned.
I've been to a few local supermarkets that sell bottled water and have found them to be pretty dull. They usually only carry a few brands, and they are always the same ones that everyone has heard of, like Mountain Dew or Fiji Water. Budapest bottled water is so much better than those two, and I hope it gets more popular throughout the world because it tastes just as awesome as it looks.
Budapest Mineral Water
Budapest mineral water is one of the best ways to get your daily dose of hydration. If you plan a vacation to Budapest or visit for a few days, I encourage you to find yourself some good-tasting mineral water. The truth is that many companies in the United States and other countries have been using this product as a way to advertise their products, but it doesn't have the same effect on your body as other bottled brands. The only thing that could make this product more enjoyable would be to make your own.
There are plenty of ways to get the purest water available on the market, but none of them compare to the natural flavor of bottled water. The bottled water industry has managed to convince people for years that their product is the superior choice. While this may be true in some situations, such as where a company is marketing a bottled water brand exclusively, it is not true when it comes to tap water. Even if you decide to purchase a bottle of it to take along on a trip, you should never forget that you can always go back to the bottle you brought along with a full glass of water.
By now, you are probably familiar with the benefits of drinking mineral water, so I will not have to explain them any further. However, you should be aware that some people prefer a different kind of flavor than others. If you are a person who tends to enjoy a more robust tasting flavor, you will most likely be unsatisfied with the municipal supplier's water. That said, if you like softer tasting beverages, you may select the way that Budapest mineral water tastes. You won't get a strong mountain flavor, but you will find a subtle taste that you enjoy.
Budapest Water Supply
Budapest is the capital of Hungary, situated in the southern region of Central Europe. The city has an excellent water supply, thanks to the Elbe River that carries Buda and Marmara's waters through the country. The two rivers converge in Buda, and the city has one of the best water distribution networks in Europe. The Elbe-Kisket hydroelectric power station is one of the largest power stations in all of Europe. This power station also supplies power to much of Western Hungary, including the capital Budapest.
The Buda river merges with the river Danube for the longest part of its route until it reaches Marmara, emptying into the Black Sea. Marmara is home to the highest number of cities in all of Central Europe. Therefore, the majority of the population here uses the water from the Buda river and the Danube. Marmara is part of the former Yugoslavia, and therefore, the majority of its population uses the untreated Danube-Black Sea connection. The Skopelina hydroelectric plant supplies the Marmara water distribution. The rest of the network, including Budapest, is serviced by the Kifri, Saheliyon, Mielev, Prejube, Fermentation, and the Szabo hydroelectric plants.
Water has always been a vital necessity throughout the Budapest region. Although the city can draw from a considerable amount of clean sources, the lack of clean drinking water, particularly in the urban area, has caused much concern among residents. This has led to numerous initiatives being taken by the Budapest government to introduce better public water supply systems that will improve the quality of the city's drinking water.
Budapest Clean Drinking Water
If you are looking for clean drinking water to drink in Budapest, you can find plenty of them on the internet. The city is full of old churches, palaces, and monuments laden with the Budapest people's history and traditions. It is easy to see why so many people associate the taste of this clean drinking water with their religious history and the time the Emperor first offered it.
Even though a church is located near where the drinking water comes from, you cannot touch it with your bare hands. This is because it is a sealed area, and all water has to pass through the filters installed within the building. Budapest's people have worked very hard to protect this special clean drinking water from the contaminants that could potentially harm it. Although the city keeps the primary source of this drinking water for the general public, private citizens who live in certain flats and buildings may also have access to it.
If you would like to taste this pure drinking water yourself, you can take a trip to the municipality where the river comes from. You will be able to purchase bottled water from there. If you are interested in filtering this water yourself, there are many different purification systems available. These include countertop filters as well as under the sink systems. Once you try this clean drinking water, you might never go back to your days of relying on tap water.
Budapest Water Safe
In a city where tourism is the town's talk, Budapest water is becoming more of a cause coterie. There are many stories out there about water contamination or outright dangers brought on by the use of bottled water in the region. However, these fears are unfounded and, for the most part, uncalled for. The following article will seek to explain precisely why bottled water in Budapest is both safe and healthy.
The majority of bottled water issues pertain to those countries in the Northern Europe area with long-standing water security concerns. As such, one would expect that these places would have some level of standards regarding the water safety of those who utilize them. This is not always the case; however, those drinking bottled water in Budapest find themselves in need of an authority to make sure that their water is clean and pure.
This authority is called the Prahova river basin commission (PPCB). One can also inspect Prahova's website for more information on the subject. Regardless of where one examines Prahova-coined water samples, it should be noted that this authority only checks the highest quality water found anywhere in the region. Therefore, it is best to make sure that your bottled water comes from locations far removed from this part of the world. While Budapest water may be clean, it is best not to put too much faith into it due to the possibility of contamination.
Other Information:
HUNGARIAN and EU REGULATIONS
Wikitravel
Budapest is famous for its thermal baths, where tourists and locals go to swim, relax, and soak in hot or cold mineral waters. Thermal baths differ from normal baths or swimming pools because their hot water is drawn up from deep under the earth's surface where temperatures are higher. The thermal hot water saves on heating bills and also has different mineral contents compared to normal tap water. Soaking in certain types of mineral water is considered to have health benefits for some types of health problems, so it's not uncommon for Hungarians or visitors to come to the baths for therapeutic reasons, sometimes even prescribed by a doctor. Thermal bathing is more popular in Hungary than in other destinations for several reasons. First, because of Budapest's geography, thermal waters run closer to the surface here than in other places. Secondly, thermal bathing was (and is) popular among many Turkish cultures, and Hungary was occupied by the Turkish people of the Ottoman Empire for many years. In Budapest, some thermal baths are large, historic complexes visited as a cultural as well as a bathing experience. Other thermal baths are operated more as spa hotels, with thermal water but in a modern, spa-like atmosphere.
Tap water throughout Budapest is safe to drink, so carry a bottle you can refill. Public fountains are often available throughout the city. Some look like regular drinking fountains. Others are decorative fountains (e.g. statue of a lion with water coming from it's mouth) but are also safe to drink from. It can be hard to tell which fountains are for drinking, but it's likely okay if there's either a steady stream of flowing water (versus water bubbling up from a spout), a button that makes the water flow, and/or if you can walk right up to the stream of water (versus if there's a guard rail or fence). If in doubt, ask someone.
FAQs about Budapest Water
Is tap water safe to drink in Budapest?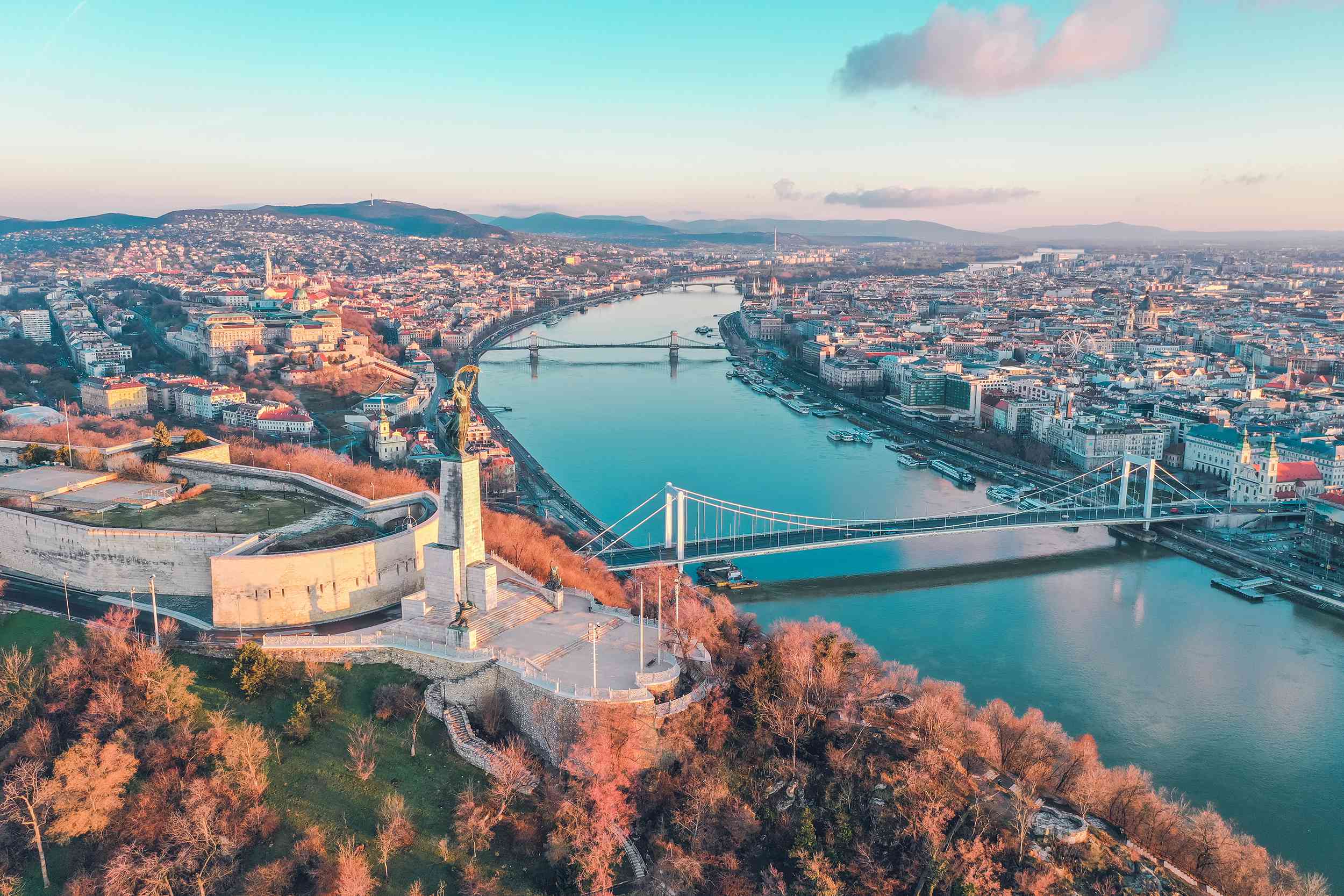 The estimated price of bottled water
USER SUBMITTED RATINGS
Budapest tap water
Drinking Water Pollution and Inaccessibility

20% Low

Water Pollution

32% Low

Drinking Water Quality and Accessibility

80% Very High

Water Quality

68% High
The above data is comprised of subjective, user submitted opinions about the water quality and pollution in Budapest, measured on a scale from 0% (lowest) to 100% (highest).
Reminder
Always take extra precautions, the water may be safe to drink when it leaves the sewage treatment plant but it may pick up pollutants during its way to your tap. We advise that you ask locals or hotel staff about the water quality. Also, note that different cities have different water mineral contents.
Current Weather in Budapest
BUDAPEST WEATHER
Some of the Convenience Stores in Budapest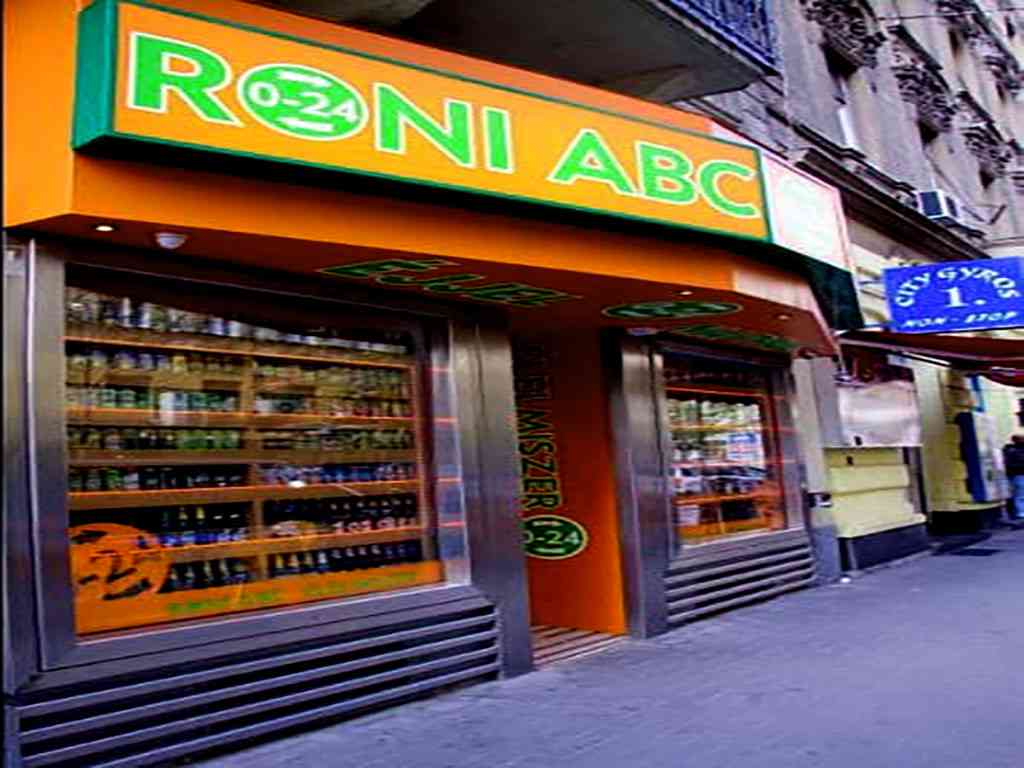 The British Store
Roni ABC
Coop Mini – Dínó Csemege
Vietnámi zöldséges
Golden Store Kft.
Metaxa Mini Market
Húsbolt
Vitatéka Élelmiszer
ABC 0-24
Kertész Csemegéje
Bottled Water Estimated Price
| | | | | |
| --- | --- | --- | --- | --- |
| Volume | HUF | USD | EUR | GBP |
| 1.5-liter | Ft.117.87 | $0.39 | €0.35 | £0.31 |